PANORAMIC VIEW VILLA KEFALONIA
Villa Erato
Luxury Villa near Argostoli Kefalonia with amazing sea & sunset view
scroll down

PANORAMIC VIEW VILLA KEFALONIA
Villa Erato
Luxury Villa near Argostoli Kefalonia with amazing sea & sunset view
scroll down

PANORAMIC VIEW VILLA KEFALONIA
Villa Erato
Luxury Villa near Argostoli Kefalonia with amazing sea & sunset view
scroll down

PANORAMIC VIEW VILLA KEFALONIA
Villa Erato
Luxury Villa near Argostoli Kefalonia with amazing sea & sunset view
scroll down

PANORAMIC VIEW VILLA KEFALONIA
Villa Erato
Luxury Villa near Argostoli Kefalonia with amazing sea & sunset view
scroll down

PANORAMIC VIEW VILLA KEFALONIA
Villa Erato
Luxury Villa near Argostoli Kefalonia with amazing sea & sunset view
scroll down

PANORAMIC VIEW VILLA KEFALONIA
Villa Erato
Luxury Villa near Argostoli Kefalonia with amazing sea & sunset view
scroll down

PANORAMIC VIEW VILLA KEFALONIA
Villa Erato
Luxury Villa near Argostoli Kefalonia with amazing sea & sunset view
scroll down


Incredible Views

Modern Features


Absolute Privacy

Near Argostoli
Designed for every guest, Erato Villa has managed to capture the essence of a quiet and carefree holiday desire, with it's amazing panoramic view, inviting its honored guests to discover all the pleasures of life
Villa Erato was built in 2005 and renovated in 2023, is designed to offer luxurious accommodation in Kefalonia in an advantageous location overlooking the valley and the sea. The character of the ruins of the Villa however still showed through, and it was the grandeur and beauty of the remains that guided the construction of Villa Erato into the stupendous Kefalonia holiday villa it is today. Luxury furnishings accompanied with modern amenities in all villa rooms and communal areas, in a detached location offer an exclusive ambience of private accommodation in Kefalonia.
Villa Erato, reflecting the beauty of Ionian Islands in Greece is idyllically set on the side of Argostoli in Kefalonia. Located on the Farsa village outskirts, surrounded by great views of the valley and impressive sea views of Kefalonia's azure waters. Villa Erato offers peace and quietness combined with access to the local village's amenities, such as mini market, cafes and taverna. Situated 20 km from the airport of Argostoli.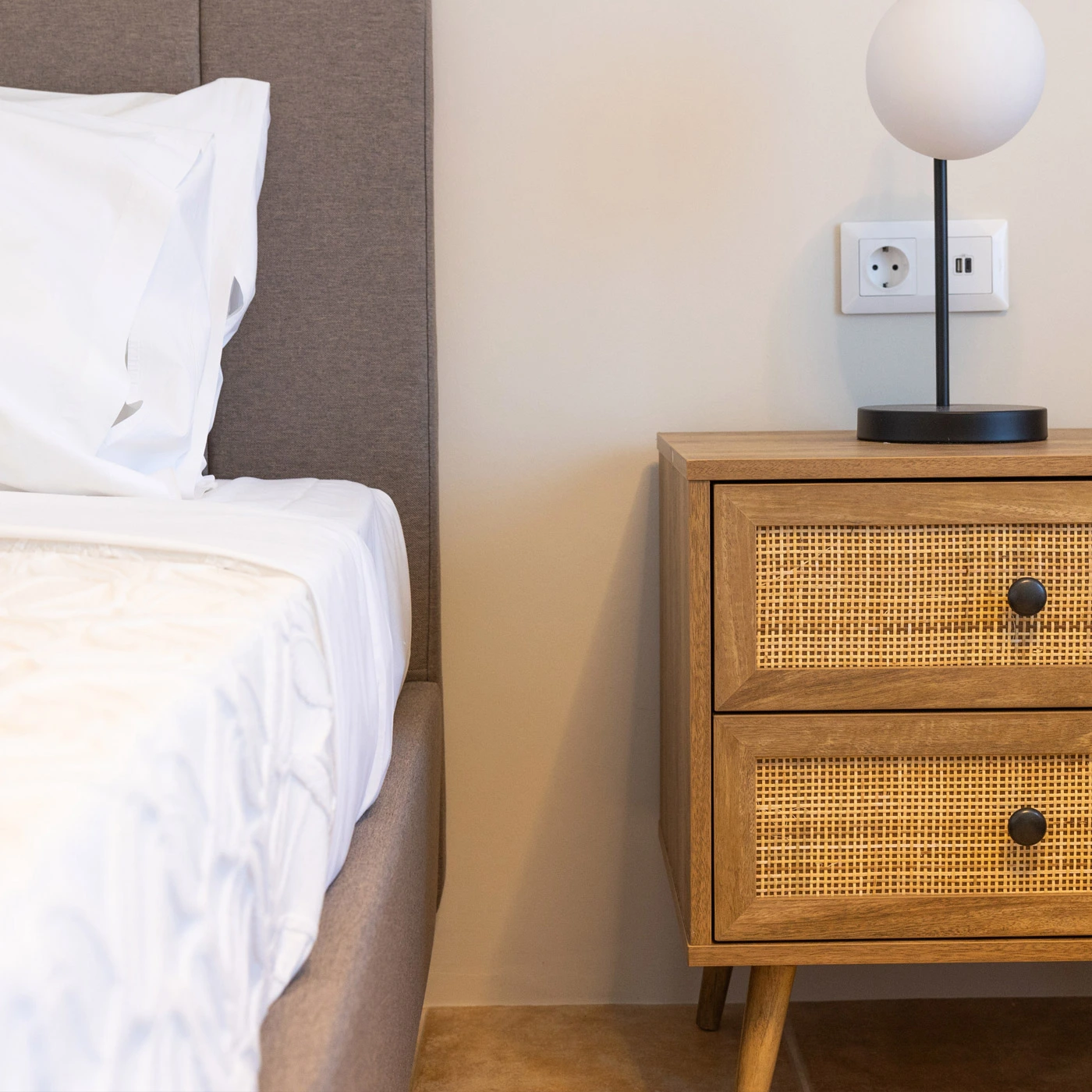 overview
Villa Erato Kefalonia offers amazing sea and sunset views, minimalist design and perfect location which guarantees privacy.
THE VILLA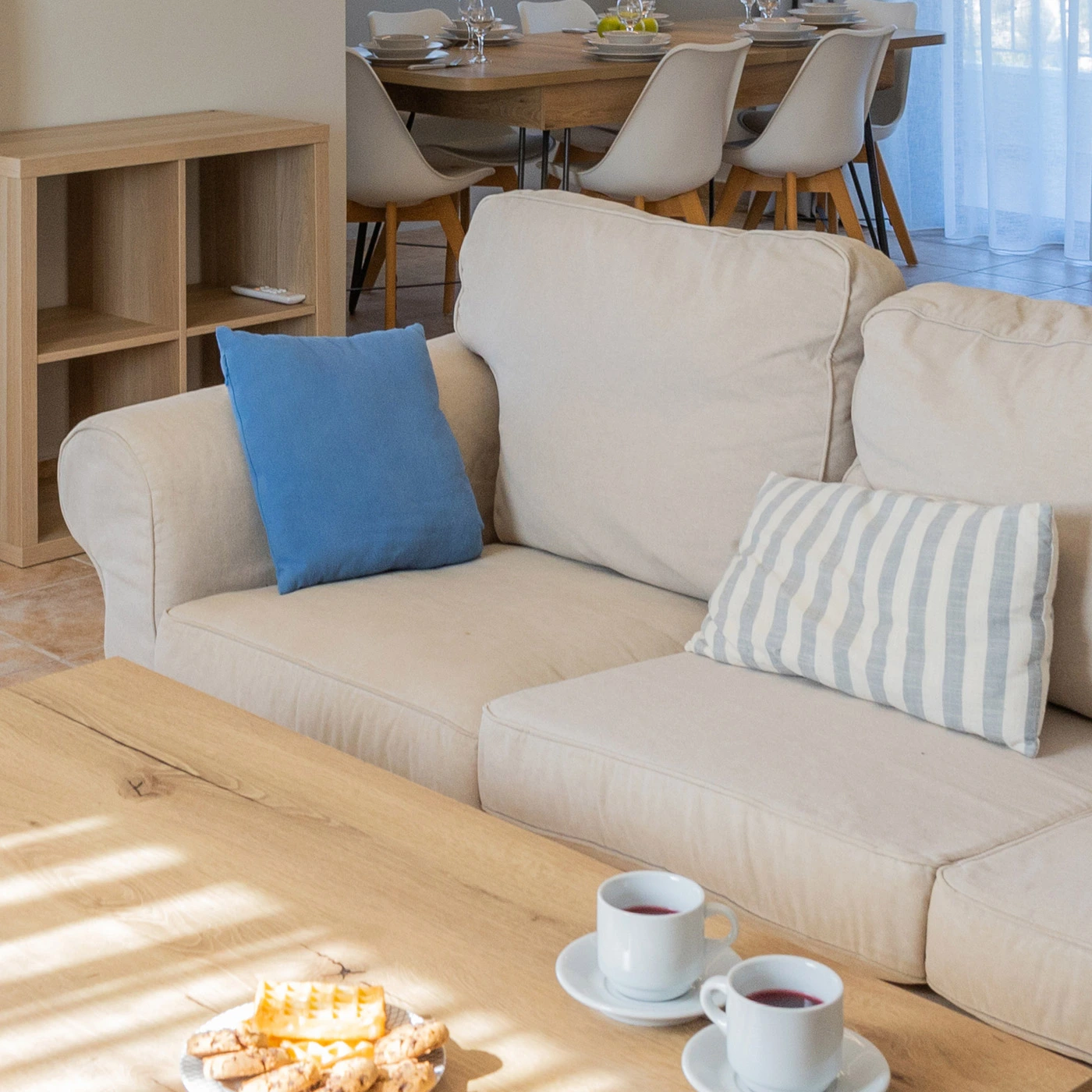 Whether you are looking for a place to relax and enjoy privacy, have a family holiday experience or for your wedding party, Erato Villa will meet all your expectations for a holiday in Kefalonia!
Best available rates for direct bookings through our official website!